The COVID -19 pandemic continues to disrupt the Pharma industry. As uncertainty around the pandemic lingers and refuses to go away, Pharma leaders are facing extraordinary challenges due to demand and supply side shocks, causing supply chain disruptions.
Unprecedented problems can still be solved with conventional solutions. With the right tools, Data Science can provide much needed clarity, direction and guidance on what is happening now, and what is expected to happen ahead
This webinar covers how an AI powered COVID Control Room can help Pharma Supply Chain teams:
Manage forecasts in times of unprecedented disruption
Reduce time to response for critical events
Develop strategies to mitigate the short, medium and long term impact of COVID-19
About the speaker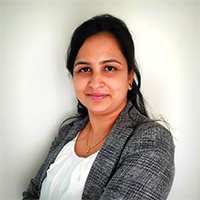 Afrozy Ara
Director of Data Science & Analytics
Afrozy is a Data Science leader with global experience in partnering with Fortune 500 clients to define strategies, execute projects and deliver significant KPI movements leveraging Analytics & AI.
She lives in the San Francisco Bay area and enjoys hiking and writing, along with her passion for all things Data.