Why businesses struggle in translating operational decisions to better outcomes?
In today's VUCA (Volatile, Uncertain, Complex and Ambiguous) world, businesses need to get hundreds of complex operational decisions right every day, to stay ahead. Currently the speed and quality of operational decisions is constrained by

Manual, obscure and highly resource intensive problem discovery process that is hard to replicate at scale
Requires experienced consultants/analysts and is a time consuming activity. The insights generated are one-time - hard to replicate after a time-period or across new situations similar expensive effort by experts.

Insights and action recommendations not integrated to operational decision workflow
Insights and action recommendations are not of much use if they are not integrated into the operational workflows and their real impact can't be measured.

Inability to scale-up decision automation (DA) across enterprise
Data Analytics Use cases leverage Machine Learning at the core. They remain at the POC level and are not able to make enterprise level impact, unless they are operationalized using enterprise grade technology. Scale-up needs to ensure easy maintenance, reuse of models and achieve highly efficient time responsiveness.
Incedo LighthouseTM - Patented* AI-driven, Decision Automation Platform
AI-driven Decision Automation platform that enables end-to-end continuous data-insights-actions journey improving operational metrics
Automate self-serve insight generation
Manage and evaluate recommended actions via experimentation

Integrate the actions into the decision workflows and measure impact
What makes Incedo LighthouseTM different

Scientific problem discovery process , industrialized to identify the right problems at speed
Intelligent problem discovery - AI-driven and automated as a self service

End-to-end data-insights-actions journey to realize measurable business impact
Action recommendations integrated into the operational workflow enabling action implementation and continuous impact monitoring

Enterprise grade ML Ops to scale decision automation across the enterprise for higher business impact
Use cases that work on TBs of daily refreshed transactional data using reusable ML services - scaled for real impact of AI decision automation
Get to know Incedo Lighthouse™
Available on AWS Solution space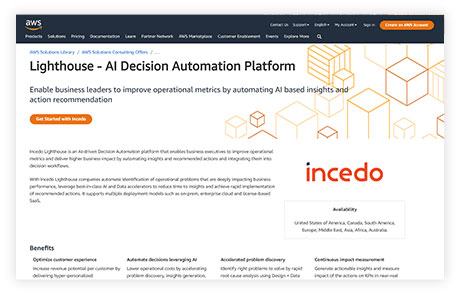 What are our customers saying?​
As a growing CRO, we were looking for ways to build a more proactive and insightful platform for our Business Development team, utilizing an AI/ML driven tool that could help prioritize opportunities based on client timing and need.
We worked with Incedo to utilize their proprietary AI/ML platform - Incedo LighthouseTM to build a Prospect Evaluation and Lead Scoring Engine that enhanced our customer and asset outreach efforts.
This tool has led to improved productivity for our BD Team and helped maximize their time. The Incedo team was very knowledgeable, flexible and easy to work with to implement this important initiative for us.
Chief Commercial Officer
Leading Bioanalytical services company in North America
Incedo's LighthouseTM platform is being used by the bank to enable personalized marketing decisions for our customers. The accelerated problem discovery and prioritization process supported with seamless development and deployment of ML models is helping us maximize sales for our cross-sell program and improve overall customer engagement levels.
Marketing Analytics leader
A popular Latin American bank in North America
With Incedo's LighthouseTM enabled Model Risk Monitoring, we are able to easily monitor & identify opportunities for the originations and behavioral models for credit risk. The user-friendly interface is helping risk managers understand the status for overall model inventory, deep dive into specific models and take preventive actions that finally lead to minimization of portfolio risk for the bank.

VP, Credit Risk

A popular private bank in North America



Incedo LighthouseTM - Case Studies
To know how Incedo Lighthouse™ continues to deliver benefits to organizations like yours, here are some of the success stories for organizations across North America, including leading banks and pharma companies.
Incedo LighthouseTM - Industry Solution
Financial Services Solutions
Shift in digital sales in a 6-month period
Increase in dollar loans disbursed through the new targeting framework
Sales improvement in conversion rates for the 3 credit products
Revenue growth, average revenue per customer increased by 27%
Increase in Wallet Share and AUM, net new assets of existing customer grew by 19%
RWE Study Execution TAT reduction – driven by easy, efficient RWE data processing and model reusability
Increase in RWE study throughput – # of FDA & HTA submissions - insights from RWE studies, no increase in RWE team size
Increase in recommended prospects reaching proposal stage. Operational efficiency gain in the prospect prioritization and planning process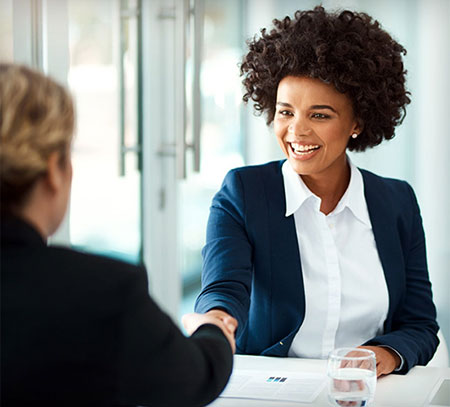 Do amazing things. Collaborate and solve problems that matter.
Register for a 30-minute, no-obligation, digital assessment
Benchmarking of your digital journey against competitors and other best-in-class leaders with key issue identification.
Portfolio of tactical and strategic recommendations that can enhance NPS, traffic and conversion KPIs.
Execution roadmap based on impact, timelines and project complexity.