The global financial services industry has seen disruption over the past few years with new fintech players and digital giants eating up into the market share of the legacy banking institutions. Whether it is digital credit lending platforms, payment tools or new credit card issuers, the common narrative to drive user adoption and build market share is enhanced customer experience through personalization.
The Value of Personalization for Retail Banking
There has been a sudden shift in the way some of the banks are leveraging personalization across the customer lifecycle. The key focus areas and objectives to enhance customer experience and deliver incremental impact for the bank are mentioned below :
Building a Growth Engine to capture new markets and customer segments
The next gen fintech players have been able to create data-enabled products that enable faster underwriting by using the prospect's bureau scores, digital KPIs, social media data etc. to identify the creditworthiness of a prospect. The big banks need to move fast to enable similar, faster turnaround times for loan fulfillment to enable higher acquisitions from new customer segments.
Maximizing customer lifetime value for existing customer base
In order to maximize the share of customer's wallets, banks have the following levers – improved cross sell, better servicing & higher retention rates. The best-in-class firms are leveraging AI-enabled, next best action recommendations to identify what products should be offered to a customer at what time and through what channel. The focus has also moved from reactive retention interventions to proactive, data-enabled retention strategies personalized to each customer.
Improved risk assessment and mitigation controls
Use of Personalization is not limited to marketing interventions, the digital world needs personalized controls when it comes to risk management, fraud detection, anti-money laundering and other control processes. Sophisticated AI models for risk, fraud & AML detection coupled with real time implementation is critical to build strong risk defense mechanisms against fraudsters.
The overall impact of personalization in Retail banking is dramatic with added opportunity to improve experiences across the customer touchpoints. Based on Incedo's deployment of solutions for banking and fintech clients, given below is an illustrative example of use cases and potential opportunities.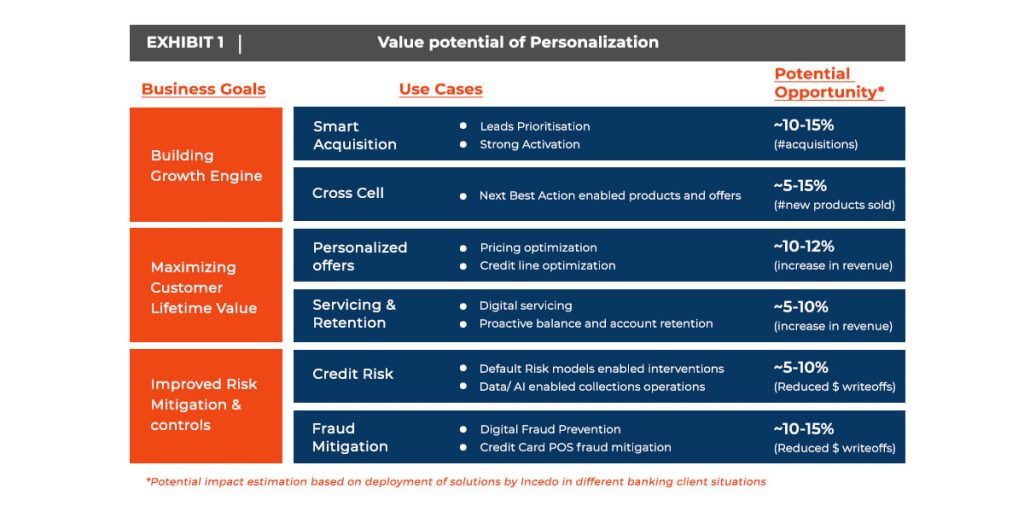 Building a personalization engagement engine requires integrated capabilities across Data, AI/ML and Digital Experiences
The reimagined customer engagement built on personalization requires a clear understanding of customer's needs, behavior, requirements etc. and the ability to integrate these with customer front end platforms and channels (website, mobile app etc). This requires capabilities interwoven across the spectrum of Data, AI/ML and Digital Experiences.
Data foundation and the strategy to enable a 360 degree view of the customer:
Most of the banks struggle to stitch together a holistic profile of the customer in terms of their products, lifestyle behavior, transactional patterns, purchase history, offers used, preferred channels, digital engagement etc. This necessitates development of a clear data strategy right from capturing customer touchpoints to building 360 degree data lakes for the customer. Given the huge data storage requirements, this may also mean building modern digital cloud platforms that capture not only customer's purchase history but also granular data points like digital clickstream data.
AI, ML and Analytics-enabled decisioning layer to drive Next Best Action Recommendations:
Identifying the right product/offer/service for the customer at the right time and through the right channel of engagement is important to ensure it converts into an optimal experience for the customer. This is done through a series of AI models, customer segmentation, optimizations etc. These AI/ML models are built on historical data and are tested, monitored and enhanced on an ongoing basis to ensure any new feedback is incorporated into the models.
Building an AI/ML engine needs expert Data Scientists and Business Intelligence experts with a background in ML, statistics and contextual domain knowledge.
Optimal Digital Experience to capture customer attention and maximize conversions:
Data-enabled recommendations do not work if not supplemented with the right creatives and simplified communication that drive call to action for the customer. Digital Experiences that enable impactful omnichannel journeys whether through email, website, mobile app, ATMs, branches, service reps etc. are very important in this regard. The A/B testing of digital experiences that may include application forms, digital journeys, website interstitials, campaign banners etc. is critical to build best-in-class customer experiences.
While data, AI and digital experiences are the three key building blocks of the personalization enabled engagement layer, there is a need to orchestrate and integrate these capabilities to ensure that banks are able to deliver value from the personalization initiatives. Building these capabilities is no mean task and can take long time cycles to reap any tangible benefits, especially in cases where firms are building these capabilities from scratch.
How to turn the personalization opportunity into reality ?
While many traditional banking institutions have tried to build personalization enabled engagement, it has been observed that either the efforts fail or do not scale up over time, leading to non-optimal ROI on investments made.
Apart from building capabilities across data, AI/ML and digital experiences, it is critical to embed the personalization recommendations into enterprise users' workflows whether it is a part of CRM, Salesforce, Credit risk decisioning systems etc. The end-to-end decision automation of workflow is critical to drive adoption and actual implementation of personalized experiences for customers.
Incedo's LighthouseTM enabled CX personalization for the banks is an enterprise grade solution that enables shorter time to market for Data/AI enabled marketing personalization and accelerated realization of personalization opportunity.
Incedo's LighthouseTM enabled CX personalization solution for the banks enables automated AI/ML enabled decisioning right from the data layer to customer reach out, to ensure personalized product, offer or service is delivered to the customer when it matters. The prebuilt library of Customer 360 degree data lakes and AI/ML models enable accelerated implementation of personalization initiatives. This is supplemented with digital command centers and on-a-click of a button operationalization of recommendations to deliver omni-channel engagement.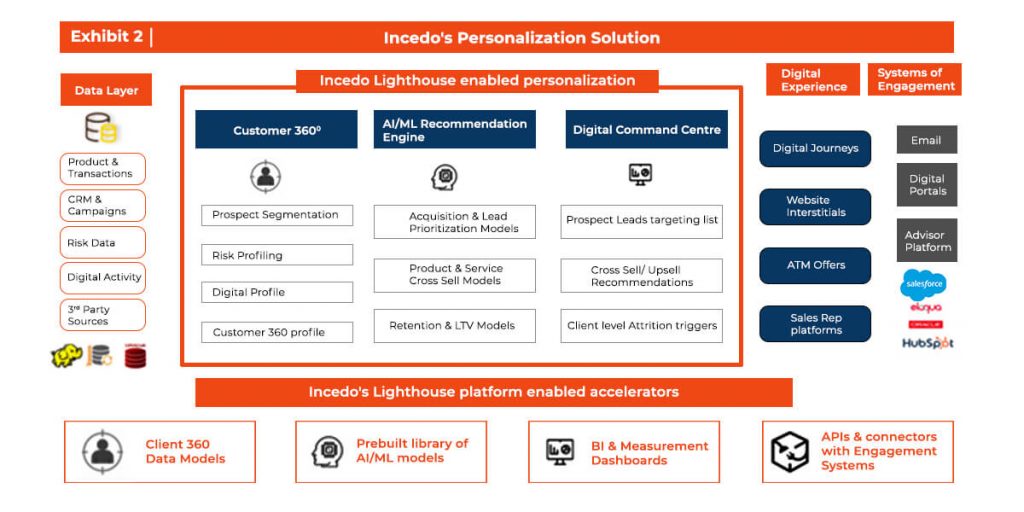 No matter where the banking clients are in their personalization journey, the solution is implemented in a way that it helps realize the business impact within a matter of weeks and not years. The solution implementation is supplemented with a personalization roadmap for the organization, where Incedo's team of experts work together with client teams to not only implement solutions but also help the firm build its in-house personalization capabilities over a period of time.
It is critical for banking institutions to acquire new customers, maximize customer value and retain their best customers at a greater speed and accuracy then ever before. Right from personalized account opening experience to hyper-personalized cross sell product and offer recommendations to trigger-based retention strategies, providing a "wow" experience to the customer needs personalization capabilities. Complementing the trust that traditional banks and credit unions have with these capabilities would ensure that they continue to maintain their competitive advantage over the new fintech players or digital giants.