In today's digital landscape, businesses are increasingly leveraging cloud infrastructure to scale their operations. However, cloud spending is skyrocketing, and those not yet on the cloud face transformation challenges.
"At Incedo, we understand the significance of striking the right balance between innovation and efficiency. By collaborating with us, you will unlock the full potential of your cloud investments and infrastructure. We look forward to optimizing your cloud space and advancing towards greater success in the digital era."
Incedo's Cloud Migration Suite accelerates migration and, through our Two-step Cloud Diagnostic approach, crafts optimal FinOps solutions, ensuring better business outcomes.
Incedo employs a 'Two-step Cloud Diagnostic approach' to optimize your cloud resources and achieve significant cost savings.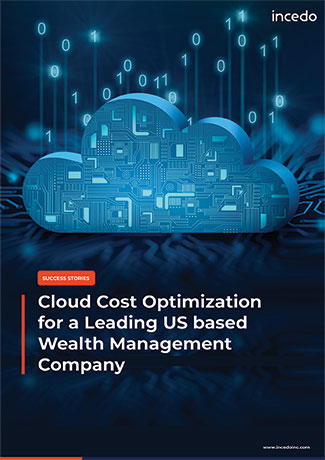 Reduce your cloud costs by up to 30% without sacrificing performance.
Unused pipelines decommissioned, reducing costs and resource wastage
Compute costs reduced by 15% through optimized ingestion pipelines and the removal of redundant processes
Cost reduction was achieved by transitioning to Spot Instances/Reserved Instances, providing significant savings and cost predictability
We make cloud optimization your competitive advantage, driving tangible business benefits and ROI in the digital age.